There seems to be lot of "dysfunctional psoas causing back pain" articles. We like to offer another viewpoint.
How psoas  effects  on posture?   
The answer is a general facilitation along the anterior kinetic chain. The body doesn't like to be in a position to  stabilize. If it is weak in an action such as flexion, the body will move more into flexion, which gives the illusion of being in a safe position. Lots of questions, and each person has their unique answer. Looking deeper into causation instead of chasing symptoms is a good practice.
                               Don't just treat what you see, Peel off layer step by step.
The psoas is involved in posture, stability, and breath. The psoas is a multisegment muscle, as it crosses multiple joints from the thoracic lumbar junction through each lumbar vertebrae. The psoas connects the axis of the spine to the appendicular function of the hip. The attachment on the thigh, the lessor trochanter, gives the psoas mechanical advantage in external rotation of the hip. The psoas is a lumbar stabilizer, a hip flexor, and is also a synergist in the breathing .
The psoas is central to movement stability.  However, muscles that cross multiple joints don't have as much mechanical leverage. Moreover , they are good at  dynamic stability of hip joint.  In the case of hip flexion, the function of the psoas is stabilization of the lumbar while its synergist, the iliacus, generate power .
The psoas is a multi-planer stabilizer that works in a three-dimensional model. The psoas more like to associate with  the quadrates lumborum,(QL). The QL has a fascial compartment just posterior of the psoas(as you can see in fighure). The compartments need to have the capacity to glide across one another , therefore it discreet function can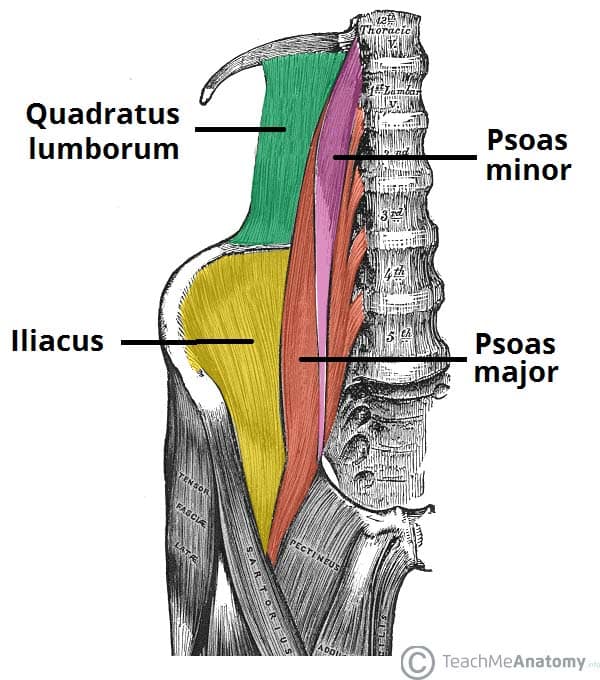 happen in the sagittal, coronal and transverse planes.
In sagittal plane movement the psoas and QL work in ipsilateral pairs on the same side. This is also true for the coronal plane. Though in the coronal plane, while one side is shortening, the opposite side is lengthening. This is called lateral flexion. The function of the psoas in the transverse plane is related to the walking gait. The transverse plane pairing is contralateral.
One side of the psoas is working with the opposite side QL to stabilize the lumbar as the pelvis is moving around the axis of the spine.
The psoas is a primary compartment of the greater lumbodorsal fascia. This fascial sheath connects the torso to the pelvis so that the action of the appendicular skeleton and axial skeleton wind-up and release elastic energy throughout the cycle of the walking gait.
Psoas has its relationship to the breathing pattern. Further, the psoas shares connective tissue with the thoracic diaphragm. This is significant because when the psoas doesn't play well with the breathing apparatus.
Biomechanics : An overview
To Read More
Register Now
or
Log in
Onces you register with us you can access restricted content……